All spaces present design challenges, but as the living room is where you probably spend the most time (and certainly the one guests experience the most of), designing a small one can be especially tricky. How do you strike a balance between making the room feel as spacious as possible while also squeezing in extra seating? What furniture should you choose, and where do you put it? Here are 15 design tips for making the most of your space, plus 10 specific furniture layout ideas for small living rooms. Let's get started.
1. Use mirrors and wallpaper. A small living room, especially if it's short on windows, can feel a bit boxed in. Create a focal point, boost light and add depth all at once by papering a wall and hanging a mirror on top. If you can position the mirror across from a window, all the better — the mirror will reflect the view outside, giving the impression of an extra window.
The layout: Center the love seat on the papered wall, flanked by a pair of matching side tables and lamps. A large woven ottoman can work as a coffee table or an extra seat. If there's room, you could work in an extra (small-scale) chair or two across from the love seat in this arrangement. Seats: two to four.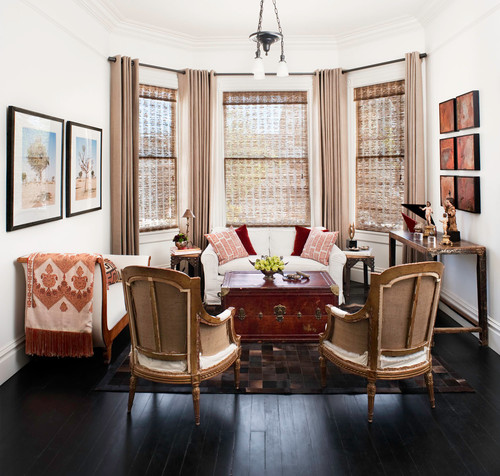 2. Add hidden storage. Pick furniture with built-in storage to limit clutter. A trunk or storage ottoman as a coffee table works well. Along the perimeter of the room, try a small chest of drawers or a small credenza instead of a console table to boost storage options.
3. Choose small-scale furniture. There is more to living room furniture than full-size sofas and bulky armchairs. Antiques shops are a great place to look for small-scale furniture, because the average room size was typically quite small until the last half century or so. Look for small settees, love seats and chairs that can work for your space.
The layout: The love seat is centered in front of the bay window, with petite tables on either side. A pair of Louis XVI armchairs sit opposite the sofa, with a trunk as a coffee table in between. An antique recamier is positioned on the wall diagonally across from the sofa, with a slim console table opposite it. Seats: six.
Read the complete Houzz insight by Laura Gaskill Houzz