Before you Buy your Sofa: Some Advice from Anny at Kilcroney.
Buying a sofa is a major investment for every household. Both in terms of expense and of design it is something you should take your time with. It is the most important piece because it anchors the space and is typically the largest item of furniture in a living room or drawing room.

When choosing your sofa the style sets the tone for the room and will drive the look and style for the rest of the decor. As with any major furniture purchase, it's best to plan before you head for the store.
First, it is important to know what color and size sofa you need.
Make sure that you know what way you intend to bring your sofa into your home! Does it need to go around a corner, will it fit through the front door or do you need side access to come in another way?
It's a good idea to familiarize yourself with the different sofa styles that are available in the store, some sofas the arms may be removed for ease of delivery so always ask.
Here at Kilcroney we encourage customers to come into the store and sit into lots of different styles and shapes of sofas. We encourage you to take your time take photographs take a note of the measurements. You would be surprised how a sofa that you initially thought you liked, will not fit your shape or height after you sit into it and you may need to look at a different style.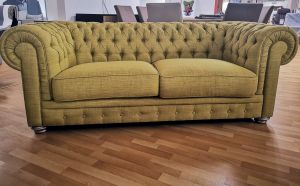 We have lots of different styles and quite a few are in our Special Autumn Prices!